I have been neglecting my baby blog! Life has been busy lately. The kids keep me very busy and pregnancy has me run down. I am 29 weeks so can see the end in site! We are having a girl so I have been shopping for lots of pink stuff!
My 6 year old is home sick today, poor baby threw up this morning. The baby just went down for a nap so I am hoping to get in a little creating today. I have found a few moments to create over the past week so wanted to share my newest cards with you.
The first is an Easter card. I am so ready for Spring so plan to start making a lot of Spring/Easter themed cards. The bunny featured on this card is so cute. This was actually a digital image that I colored with copics, cut out several times, and layered using the paper tole technique. I "sugared" the eggs he is carrying in his basket with glitter to give them some sparkle. I also "sugared" the sentiment, and it all ties in very nicely with the DP used which is glittered cardstock from DCWV. I also used some Bazzil Bling for even more sparkle! I added some stitching with my machine for a finishing touch.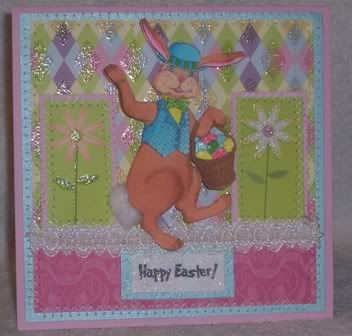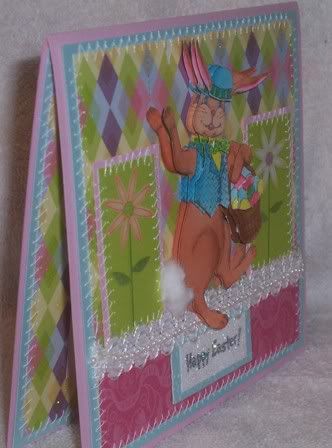 The next card is a very calming card. I chose to use blues and browns which worked well with the stamp. The stamp is from MFT serenity now set as well as the sentiment. We all need a little calm in our hectic lives (I know I do) so that is what inspired this card. The image was stamped several times and then colored with copics and layered using the paper tole technique (can you tell I love this technique?). The image really pops off the page! again I added stitching for a finished look.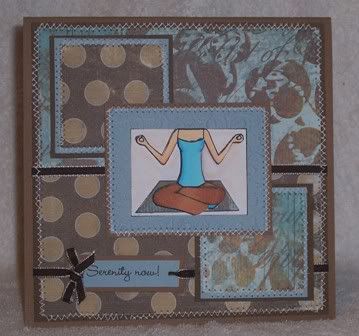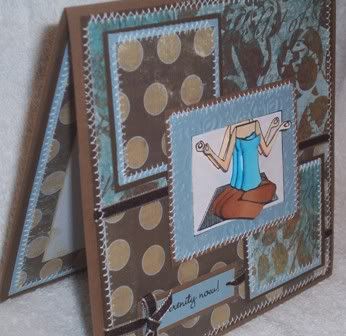 Hope you enjoy my newest cards. I already have an idea for my next one so want to get to work.
I have begun to sell my work on ebay (or at least try to sell lol) that way I can have more money for more stamping supplies and DH can't get upset about how much I am spending! I will include a link to my auctions on the side bar of my blog as soon as I figure out how (still learning all the ins and outs of this blog stuff).
Oh and on a side note my Dr diagnosed me with gestational diabetes of all things...so now they expect me to stay away from carbs...how on earth am I supposed to do that...I love my carbs! I have to give up my cakes, and cookies, and cokes and all that yummy stuff! I have to meet with a dietitian next week and I guess they are going to give me a diet to follow =( Oh well in the end it is what is best for the baby and learning to eat better will help me get all the baby weight off quicker! I have a cake my son and I made for Valentines day sitting on the kitchen table...so hard to stay away!