Well I got some more goodies in the mail today. I got my 2nd order of copics and some Stazon ink. I think my hubby is wondering when the packages will stop coming lol.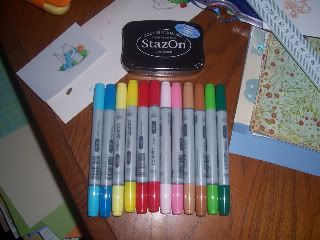 My collection of copics is growing, I have a total of 12 now woohoo!. I am waiting on 1 more package of 6 to arrive (I ordered it yesterday) and then I am going to try to be content with what I have for now. I keep looking at all these wonderful blogs though and see others using colors I just really need to have. One of the blogs I check in on a lot is
Jen Muraoka
She uses copics beautifully and even shows you which ones she used on each card. If you are new to copics I would highly recommend checking out her blog. She does amazing work!
I have practiced a little with my new markers on my froggy below. I am going to try to complete my card tonight which will have a frog just like this one as the center piece. So check back tomorrow for my first stamping creation.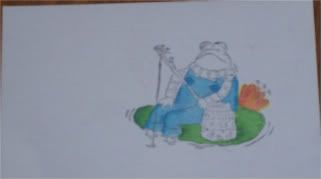 Happy Saturday to all!