Well here we are late Saturday night early/Sunday morning and I finally got my Mojo Monday card finished. It has been a long and busy week for us filled with sick kids and car repairs...ugh! To top it all off we have to spring forward tonight...blah! DH and my oldest son are going to church in the morning and I plan to stay home with my youngest since he is still sick. We got new bunkbeds to go in my oldest DS's room since he and his brother will eventually be sharing (when the new baby outgrows the bassinet and moves to the nursery where my youngest is now), so we have to finish getting those all put together tomorrow. I made a quick trip to the grocery store earlier but we will need to go again tomorrow to get everything we need to be set for the week. I did manage to stop by the book store also. I just finished reading The Host by Stephanie Meyer (which I loved BTW) and needed something else to read. I decided on the Gemma Doyle trilogy by Libba Bray, they are young adult novels but sound pretty good and I have been reading a lot of YA's lately that I like.
So now back to card making! Here is what I came up with for this weeks
Mojo Monday 76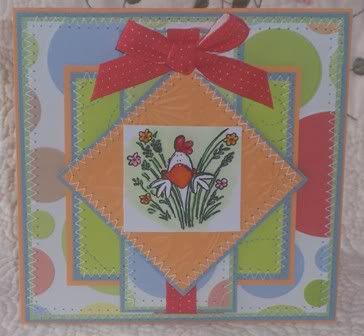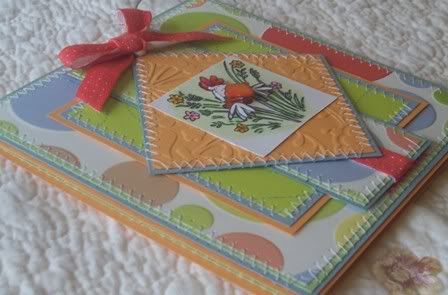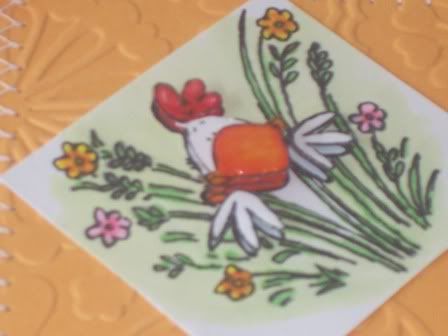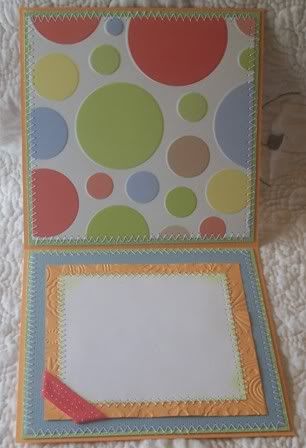 The stamp is Penny Black Surprise (so so cute). I stamped the image several times and colored with my copics, then cut and layered for a 3D effect. The beak and the comb (I believe that is what you call the red thing on the head) have several layers of Diamond Glaze to make them shiny. I used lots of layers of cardstock, and patterned paper, and my sewing machine to add some stitching. I also finished the inside of the card and left plenty of room for a handwritten note. My cuttlebug was used to add some nice embossing detail on the inside and outside of the card. The only thing I changed with the sketch is I rotated the front square so it is more of a diamond as that seemed to suit my card better.
Now even though it is almost 1:30 am (well I guess 2:30 since we are springing forward) I am off to relax in the bath and start my new book. I need it after my long week! Hope everyone is enjoying their weekend!